Caradon Mining District
Ranndir Balweyth Bre Garn
Big skies, boom and bust
This rugged, windswept and mostly treeless Area sits high up in a remote but beautiful corner of Bodmin Moor. Surrounded by gorse, wildlife and mining settlements the Engine House stand stark against the open moorland.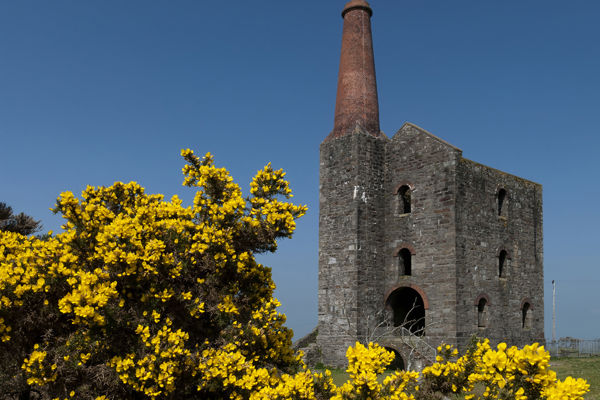 Rising dramatically from the surrounding plain, the granite dome of Caradon Hill dominates the Area and is encircled by engine houses, chimney stacks, thousands of tonnes of waste rock from the various mines and quarries, and the trackbed of the Liskeard & Caradon Railway.
This is a story of boom and bust: the rise of copper mining here established new settlements and expanded others, but the explosion of mining activity within this formerly isolated landscape was to last barely 50 years; large-scale mining for copper had essentially ceased by 1890.
The remoteness of the Area means it is a wonderful place to escape the crowds, cycling or on foot, and discover wide open moorland, unique natural habitats, and ancient and industrial landscapes. Always remember when visiting Bodmin moor that livestock are often close to or in the road so drive extra carefully and respect their space and habitat when driving and walking.
To discover more about the wealth of archaeology, ecology and mining heritage of the Caradon Hill area of Bodmin Moor, the Minions Heritage Centre is well worth a visit.
The remoteness of the Area means it is a wonderful place to escape the crowds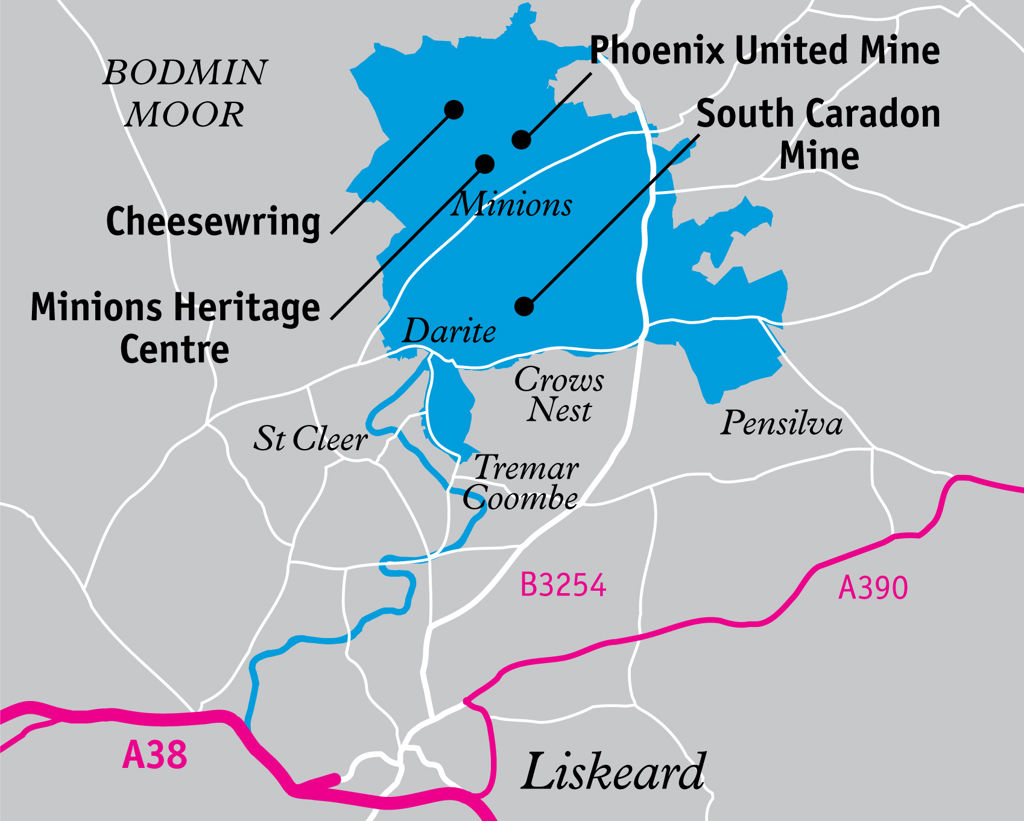 Walking on open access land along the old Liskeard & Caradon Railway (built to transport copper-ore southwards to the port of Looe), with its mostly level surface, stunning views and striking reminders of its industrial past
Watching the sunset from the top of Caradon Hill, looking west across the golden moors and Siblyback Lake
Visiting the Prince of Wales Shaft at Phoenix United Mine, built for the last big pumping engine made in Cornwall (1907). It's an impressive and distinctive landmark with great views across the countryside. Nearby, the Houseman's engine house, part of South Phoenix Mine, is now partially restored as the Minions Heritage Centre—well worth a visit
Exploring the well-preserved cobbled floors of South Caradon Mine at the bottom of the Seaton Valley, where hundreds of women and children used to dress copper ore. The towering bleached white waste dumps either side are a striking testament to the scale of operations beneath this moorland landscape
Visit Liskeard Museum to discover more about the Area's heritage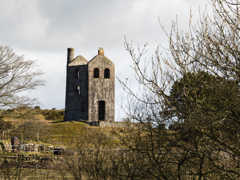 Ainsley Cocks
Minions Heritage Centre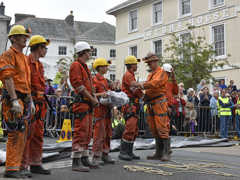 Ainsley Cocks
Liskeard Museum
This rural upland mining district represents a 1840s-90s copper mining landscape
The remains of a mineral railway (constructed primarily to transport copper ore southwards to the port of Looe); the Liskeard & Caradon Railway
Important tin mines; Wheal Jenkin, Pheonix United Mine
Dispersed mining settlements; Darite, Tremar Coombe, Upton Cross, Higher Tremar, Pensilva and Crow's Nest
Mining villages in the north east and south (including an extension in the south east, around Pensilva, to include well preserved mineworkers' smallholdings)
New settlements of terraced cottages, chapels and schools grew up around the mines. Minions village is an example of a mining settlement on moorland, unconstrained in its development
Open, exposed, granite moorland, mostly above 300m OD. Nowhere else within the Site are such extensive mining remains found that date from such a limited period of operation (1840-90). They reflect a good example of a 'boom to bust' Cornish copper mining landscape
Craddock Moor and Rillaton Moor - also rich in mining archaeology
The granite dome of Caradon Hill (404m OD); Engine houses, chimney stacks and thousands of tonnes of waste rock tips encircle the hill
Villages that expanded due to the mining boom, such as St. Cleer and Henwood
Numerous blocks of smallholdings created from open moorland