Luxulyan Valley with Charlestown
Nans Logsulyan ha Porthmeur West
The creations of two extraordinary industrialists
From tranquil green woods to a bustling harbour village, the landscapes of Luxulyan Valley and Charlestown are very different. However, they share important similarities: both are stunningly beautiful places with fantastic walks and rich mining histories to explore, and both were created by two locally-prominent industrial entrepreneurs.
Charlestown, whose picturesque harbour has featured in many films, was developed in the late 18th century by Charles Rashleigh, while the many works in the Luxulyan Valley, including the Treffry Viaduct, leats and tramways, were constructed by Joseph Thomas Austen, later Treffry, during the early to mid 1800s.
Charlestown was built between 1792 and 1801, and is the best-preserved china clay and copper ore port of this period anywhere in the world.
Works in and around the Luxulyan Valley include a three mile leat, constructed to power the many water wheels and water pressure engines at Fowey Consols Mine, and to supply water for the steam engines and ore processing; a canal to take the mine's copper ore to the purpose-built harbour at Par; and a horsedrawn tramway, to provide a link to the mines of the hinterland and give access to the granite quarries at nearby Colcerrow. The most impressive feature within the Valley is undoubtedly the Treffry Viaduct, an imposing granite structure which carries both a leat and tramway route high above the Valley floor.
Charlestown was built between 1792 and 1801 and is the best-preserved china clay and copper ore port of this period anywhere in the world.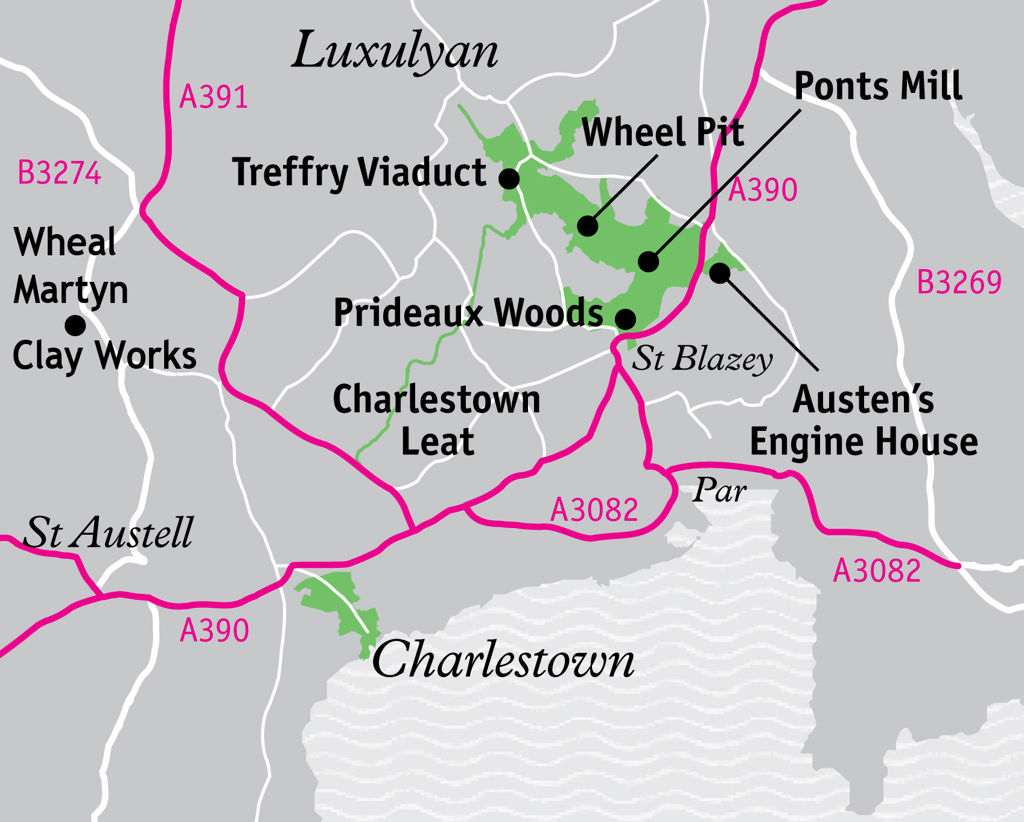 Standing under the Treffry Viaduct, which, despite being huge, manages to hide itself amongst the woodland until it is literally upon you!
Walking the attractive circular route from Ponts Mill along Par Canal (90 minutes), which was created to transport copper ore from Fowey Consols to Par Harbour
Glimpsing Austen's Engine House above Penpillick, part of the Fowey Consols copper mine.
The huge water wheel pit on the valley side near Carmears Rocks shows the sheer scale of operations here.
Experiencing the delightful Prideaux Woods (to the south-west of Luxulyan Valley) – a quarter of which is ancient woodland
This Area comprises an important concentration of industrial transport infrastructure and water supply network
The industrial transport network of the Luxulyan Valley together with the principal surviving remains of a major copper mine in the east that was one of the reasons for the establishment of major elements of the infrastructure; it also provided the wealth for its construction.
The exceptional port of Charlestown was an important centre for copper export designed by the foremost civil engineer of the day - John Smeaton FRS (1724-92) one of the finest examples of late eighteenth- and early nineteenth-century industrial harbour works in Britain
The most significant manifestations of industrialisation within two single ownerships– Charles Rashleigh (Charlestown) and Joseph Thomas Treffry (Fowey Consols).
The Par Canal created by Treffry to take copper to the new industrial port he built at par